November is National "American Indian" Heritage Month. After decades of effort on the part of Indigenous peoples to have a time set aside specifically to honor the work and significant contributions of "first Americans," President George H.W. Bush approved a joint resolution to designate November 1990 "National American Indian Heritage Month." Each year since 1994, similar resolutions have been made under different names, such as "Native American Heritage Month" and "National American Indian and Alaska Native Heritage Month." We're excited to highlight a handful of excellent, recently published children's and teen books by Indigenous creators.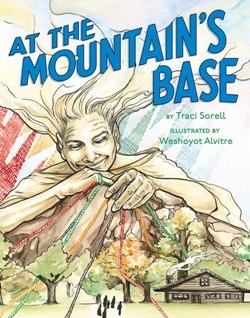 With spare and poetic text, Traci Sorell (We Are Grateful: Otsalhilega) presents in At the Mountain's Base (Kokila/Penguin, $17.99) a family of women bound together by love. Tucked away in a cottage "at the mountain's base," the women weave threads of red, gold, green and black into a wonderful fabric. While they create the tapestry, they pray for the return of one of their own--a pilot in the Women's Airforce Service. As their invocation rises up, readers get a glimpse of their loved one, soaring in her plane. Weshoyot Alvitre's majestic watercolor-and-ink illustrations include small portraits bordered by white space and framed with the ever-present thread, as well as sweeping, full-spread paintings with changing points of view. These choices, along with the ample use of white space, give the art an expansive feel, immersing readers ages four to eight in the movement of the wind that brings the pilot closer to home. The lovely earthtones give way to more verdant and vivid hues as the pacing climaxes with a close-up of the missing family member.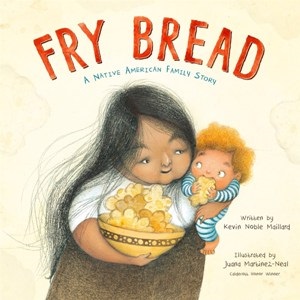 While Fry Bread: A Native American Family Story (Roaring Brook Press, $18.99) is recommended for audiences ages three to six, it's undoubtedly a book that will last on shelves well into readers' double digits. Kevin Noble Maillard--Syracuse University law professor and a member of the Seminole Nation, Mekusukey band--has effectively written two books for multiple age groups. The first two-thirds is an affecting picture book that features family and friends gathering, creating and enjoying fry bread together. Glorious double-page spreads introduced by pithy, resonating phrases define the Native American staple: "FRY BREAD IS FOOD," "FRY BREAD IS HISTORY." Caldecott Honor and Pura Belpré-awarded illustrator Juana Martinez-Neal's (Alma and How She Got Her Name) artistry revels in the faces of those making and enjoying the treat. Then comes book two, which augments the simple, sincere verses with illuminating edification for older readers. Maillard's expansive author's note follows across nine pages, amplifying every descriptive "Fry bread is..." phrase with context, background, history and personal tidbits. Remarkable in balancing the shared delights of extended family with onerous ancestral legacy, Maillard both celebrates and bears witness to his no-single-recipe-fits-all community.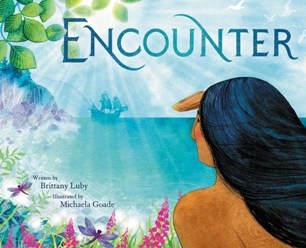 Using French explorer Jacques Cartier's journal as inspiration, Canadian historian and Anishinaabekwe Brittany Luby imagines the 16th-century meeting of a French sailor and a Stadaconan fisherman in Encounter (Little, Brown Books for Young Readers, $18.99). Despite the men's superficial differences, nature's creatures spy their deep commonalities. They eat, swim and play together; their harmonious introduction needs no words, as the wildlife so keenly observes: " 'You are not so different,' squawked Seagull, who flew overhead. 'You both cast long shadows.' " Encounter is made even more vibrant by the dazzling mixed-media illustrations of Tlingit citizen Michaela Goade (Shanyaak'utlaax: Salmon Boy). Her radiant colors and strong textures draw the eye, and her changing perspectives mirror Luby's themes. Readers see the men's relationship from the sky like the seagull or from below like the mouse, as the detailed art reinforces the value of viewpoint and heightens the beauty of this encounter in a way that will certainly delight young audiences ages four to seven.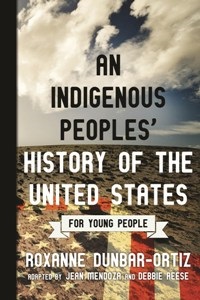 Curriculum specialists Debbie Reese and Jean Mendoza have adapted Indigenous human rights activist Roxanne Dunbar-Ortiz's acclaimed academic text An Indigenous People's History of the United States (Beacon Press, $18.95) for readers ages 12 and up. This history of North America's native tribal nations rebuts popular cultural beliefs and offers a different perspective on the colonization of what became known as the United States. The adaptation spans centuries of resistance by the more than 500 federally recognized nations in the U.S. Even though the authors cover vast numbers of people and a long period of time, this account of the country's evolution remains gripping, tightly written and packed with facts traditional textbooks and historical accounts neglect to cover. Reese and Mendoza provide innovative opportunities for important reflection on the material; maps, illustrations and photographs offer more ways to interact with the text, and a list at the conclusion suggests further reading.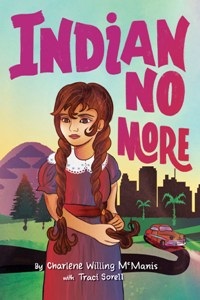 In August 1954, the president signs a law that says Regina Petit and the other citizens of her Umpqua tribe living on the Grand Ronde Indian Reservation in Oregon are "no longer Indian" in debut author Charlene Willing McManis and Traci Sorell's Indian No More (Tu Books/Lee & Low, $18.95, ages 9-12). Though her Chich (grandmother) urges Regina's father to fight, in 1957 he signs up for the Indian Relocation Program: "Daddy called it an opportunity... Chich called it an eviction." The program moves the family to Los Angeles, Calif., where Regina interacts with non-Native neighbors and classmates for the first time. Extensive back matter informs readers that Indian No More was based on the experiences of Charlene Willing McManis's family. Like Regina, Willing McManis was Umpqua and a member of the Confederated Tribes of Grand Ronde; after her death, the book was completed by Sorell (At the Mountain's Base, above), a citizen of the Cherokee Nation, with the help of editor and fellow Cherokee woman Elise McMullen-Ciotti. A heartfelt and meditative exploration of an often-undiscussed time in recent U.S. history, Indian No More wades through complex issues of identity and culture and the preservation of both.